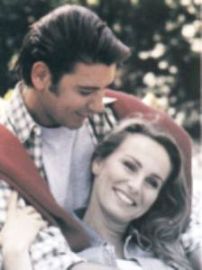 "A year ago today was one of the worst days of my life, a hellish day in a life that already was on a sickening downward spiral.  I had an appointment with you later in the week, and at the time I could not even begin to imagine coming out of that deep, dark, spiraling abyss.
"But I did. One day I said that, 'Eventually R____ and I will figure out what in the world we're doing.' Although I could not see how that was true, you seemed to believe it could happen, and your reply was a great comfort: 'I'm absolutely convinced of that.'
"Sometime later, I told you that I would be okay. I was not okay at the time, and I didn't know how I would be again, but it was a statement of faith.
"The other day I was talking with a friend whose relationship of 30+ years is in serious jeopardy. I was frankly surprised to find how truly "okay" I am now.
"I am, of course, the same person I was a year ago. At the same time, I am not at all the same person, and will never be that person again. I am so much smarter, so much stronger, so much more vulnerable, so much more open to lessons of the universe. I can't begin to imagine how I would have come through all that hell without your help.  Thank you. Thank you. Thank you."
– Paula B. – Greenville, SC

"Just wanted to let you know how much better our week has been.  Thank you for the wonderful session on Tuesday, in fact they have all been good. I don't think that we would have made it this far without your help and guidance. I feel in my heart God saved our relationship by leading us to you. I also know that He is working through you to help us. We both know that we still have a ways to go, but I know that we will get there, and we will be so much better and stronger for it. Thank you again for all that you are doing for us, we wouldn't have known where to even start without you."
– from a new client, after 4 sessions

"Greg made both my spouse and me feel very comfortable in sharing our situation.  He was very quick to grasp our difficulties, and often was able to put things together into words better than we could. Our relationship really benefited from the practical ideas/suggestions/homework and didn't feel that we were just given theories or generalizations. He was perceptive, able to understand our situation, and gave us practical suggestions on ways to improve. I've already given his name to one friend, and would gladly give it to others who need help. Thank you!"
– from a former client (seen only 12 times), 3 months after treatment complete

"We are making immediate and excellent progress in our relationship.  I thank you very heartily for what you are doing. There has been from day one, a feeling of rightness about your approach. A combination of wisdom and common sense, which, of itself, is rare – the kind of perception that you have just seems to ring true over and over again, which gives one the feeling that you hit home-runs a lot. Thank you."
– from a new client, after 5 sessions

"My wife and I were ready to dissolve a 14 year relationship.  After working with Greg our relationship was saved. He showed us both what we were doing wrong, put us on the path to recovering our original love for each other, and then helped us move down this path. I would recommend to anyone, young or old, if they are having problems with their relationship, to see Greg. I recommend him 100%!"
– from a client – after only 7 sessions

"You have helped us more than you could possibly know.  We are in a very good place now, and are continuing to use all of the skills you taught us. Both of us say all the time that if it were not for you, our relationship probably would not have made it. We truly appreciate everything you did for us – thank you again!"
– from a former client

"You helped us to get back on the right track by enabling us to look at each other differently.  Through working with you, we are now having a wonderful relationship again. We now both feel secure and trusting of each other. It has become so easy to enjoy each other. Thank you!"
– from a client – after only 6 sessions

"I want to thank you for all you've done for both my wife and me.  The goals and strategies we laid out in the very first session are truly being realized in our life as a couple. The summer has been truly blissful for our relationship."
– from a former client, 3 months after treatment complete

"I've taken the tools Greg gave me and applied them to my current situation.  Though it hasn't been easy, it has felt better meeting my situations head on. I'm very comfortable with Greg as my therapist!"
– from a new client, after 2 sessions

"I just wanted to thank you for all the time you are investing into my life right now.  It's been a real blessing to me. You cared a lot to help me when I was in need, and I am really grateful for all that."
– from a current client

"You made a big difference – we both benefited tremendously.  Our work with you was very eye opening, and I now feel so much more at peace. I would definitely recommend you to others!"
– from a former client

"Greg is doing a great job.  He is very friendly and he always listens to everything. He is patient and understanding. He made an awful situation very comfortable, and he is very easy to talk to."
– from a new client, after 5 sessions

"Considering how low we were when we first came to see you versus where we are today, it's amazing – we moved the needle pretty far working with you."
– from a former client, 2 months after treatment complete

"Happy to report we are doing very well, and we appreciate the positive experience we had working with you.  It really has made a world of difference!"
– from a former client

"You have a very special gift in the area of relationships.  You are number one on my recommendation list – because you're good!"
– from a local minister

"Greg has done a great job.  He offers many ways to look at a situation and allows you to think, which enables one to grow and learn!"
– from a new client, after 10 sessions

"Everything was great.  Greg is a wonderful therapist. My children and I felt very comfortable talking with him."
– from a former client

"We felt that our needs were completely met.  Thanks so much for making ours a happy home again!"
– from a former client